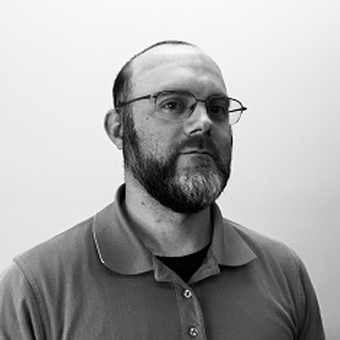 Photo by Andrea DaSilva
"I strive to solve both technical and aesthetic design problems and enjoy using creativity to educate and motivate."
Howard's research focuses on the pedagogy and cognitive science of creativity. He uses multiple aspects of visualization as a means of study and application. Including its use as an educational tool and the application of creativity in learning in the context of sciences. Many of his visualization applications revolve around real-world data, 3D graphics and simulation, and 2d interactive media. He often uses instructional design techniques and graphics programming to provide students and educators with technology that fit with their class projects, course presentations and research needs. He received a BFA from Ringling College of Art, and an M.Ed from the University of South Florida. He is currently pursuing a Ph.D, in Engineering Science, Biomedical and Chemical Engineering at the University of South Florida.
His unique skillset has allowed him to develop the Advanced Visualization Center at the University of South Florida, which serves as a campus wide resource. Howard's work has also been featured in the journal Science, Wired.com, Siggraph, Discovery.com, and Fox News. He was also selected by the Center for Digital Education as a Top 30 Technologists, Transformers and Trailblazers in 2014.
Areas include: 2D & 3D Imaging, Medical Simulation, 3D Printing, Tactile Visualization, Physicalization, User Experience Design(UX), Instructional Design, Graphic User Interface Design (GUI), High Resolution Displays, Virtual Reality, Augmented Reality, Stereoscopic Technologies, gesture control, creative coding, rapid prototyping, Game Design, 3D Modeling, Animation, and alternative methods for data representation.
Updates:
10.16.2016 AECT Conference, Las Vegas
08.25.2016 Teaching USF Makecourse-art.com, USF, College of Engineering
08.23.2016 Teaching: Computation for Research & Discovery, USF Honors College
01.14.2016 Presenting at FETC Conference Orlando
01.12.2016 Teaching Intro to 3D Animation USF, College of Art
09.21.2015 Computer Graphics Conference San Antonio
08.25.2015 teaching USF Makecourse-art.com & Creativity and Innovation in Design
07.07.2015 teaching STEM Scholars Program USF
02.26.2015 Presentation for BMES USF, 3D Printing in Biomedical Industry
01.21.2015 Lecture: Creativity's Role in Design
01.20.2015 Lecture: 3D Printing Applications & Trends
01.14.2015 Lecture: 3D Printing an In-depth Overview
11.18.2014 Speaking / Panelist, Research & Remembrance 100 Years After Fire at Dozier
11.06.2014 Workshop Intro to Animation & Mesh Deformation
10.18.2014 BarCamp
10.16.2014 Workshop Intro to Animation & Mesh Deformation
10.08.2014 Speaking MOSI 3D Printing
Select Publications, Talks & Press
Kaplan, H., Archibong, E., Konnaiyan, K. R., & Pyayt, A. (2016). A mobile phone-based approach to detection of hemolysis. Biosensors and Bioelectronics.
Kaplan, H., Pyayt.A. "Tactile Visualization and 3D Printing for Education", Encyclopedia of Computer Graphics and Gaming, Springer, pp. 49-60 (2016).
Kaplan H., Athilingam P., Osorio RE., Oliver D., ONeachtain T., Labrador M., Rogal PJ., "Embedding Patient Education in Mobile App for Patients with Heart Failure: Report of Development and Beta Testing", CIN: Computers, Informatics, Nursing: February 2016 -
Volume 34 - Issue 2 - p 92–98. Wolters Kluwer Health, Inc. doi: 10.1097/CIN.0000000000000216 ----Link----
Kaplan, H., (2014). Center for Digital Education, Top 30 Technologists, Transformers & Trailblazers.
Kaplan, H., Pyayt.A. (2014). Science, Visualization Polymer Micro-structure Self-assembly,
doi:10.1126/science.343.6171.600
Kaplan, H. (2013). Visualization in Academic Domains. GPU Technology Conference. GTC 2013, id S3068.
2013 University of South Florida - "SCUP, Society for College and University Planning" Presenter & Guest Panelist
2010 Powered UP Boston - "Educating Tomorrow's Gaming Leaders" – Guest Panel
Ambrose, E., Kaplan, H., (2005 ). The Boy Without a Throne, ISBN 1418452319, (Illustrations)
(CV) Curriculum Vitae